CatalogueAccessories (73)


Accessories
Architectural Elements
Automobilia
Books
Clocks
Coins
Fireplace Equipment
Folk Art
Frames
Furniture
Garden
Jewelry
Lighting
Miniatures
Mirrors
Nautical
Orientalia
Paintings
Prints
Textiles
Toys
Sold
page: 3 Previous 1 2 3 4 5

6

7 8 9 10 11 12 13 Next 4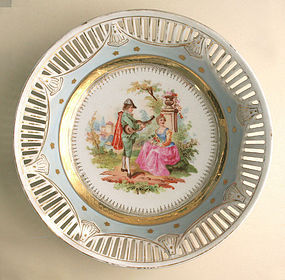 Bavarian Bowl
1112100MF
Porcelain reticulated bowl with hand painted scene and gold leaf decoration, 9" diameter, 2-1/2" depth, excellent original condition.
$24.95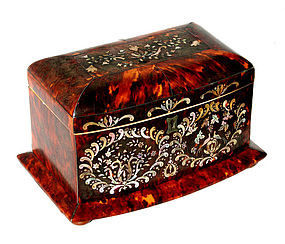 Tortoise Shell Tea Caddy
412101DD
An elegant and very competitively priced English Tea Caddy of Tortoise Shell and inlaid Mother-of-Pearl on compressed wooden ball feet, with Tortoise Shell interior lids, Ivory knobs and Ivory interior trimming,and with an original lock, it makes a suitable keeping place for what was a very precious commodity in the 18th and 19th centuries. It is in excellent original condition, circa 1850, 5" H. x 8-1/4" x 5-1/4". We accept time payments and quantity discounts. ** WE GUARANTEE THE AUTHENTICITY... Click for details
$2,600.00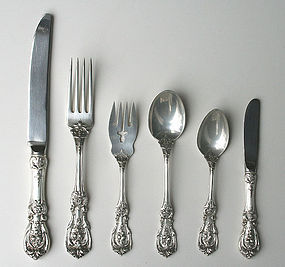 Silver Flatware
412100TD
Sterling (.925) Silver flatware, 12 complete, 6 piece place settings consisting of Dinner Knife, 9-5/8" L.; Butter Knife, 6-3/8"L.; Dinner Fork, 7-7/8" L.; Salad Fork, Soup Spoon and Tea Spoon, marked "Reed and Barton - Sterling", little used, excellent estate condition, not monogrammed, circa 1960, additional matching serving pieces may be purchased with this set or purchased separately, (see additional photos with this listing-see additional listings for separate purchases). The "Francis I"... Click for details
$4,200.00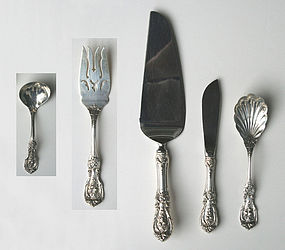 Sterling Silver Flatware
412105TD
5 Sterling Silver serving pieces marked "Reed & Barton" in the "Francis I" pattern (see additional information by going to item # 412100TD on our site), 1 Cold Meat Fork, 8"L.; 1 Gravy Ladle, 6-3/4" L.; 1 Cake Knife, 10-1/4" L.; 1 Cheese Knife, 6 3/4" L.; 1 Berry or Sugar Spoon, 6-1/4" L.,circa 1960, all in excellent unmonogrammed estate condition. Fork, $75; Ladle, $145; Cake Knife, $75; Cheese Knife $45; Sugar or Berry Spoon, $85
$425.00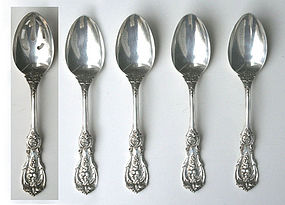 Sterling Silver Flatware
412104TD
5 Sterling Silver Serving Spoons, marked "Reed & Barton - Sterling" with the old style hallmark in the Francis I pattern, one is pierced, (see listing # 412100TD for additional information), pre 1940, in little used, excellent unmonogrammed estate condition.
$150.00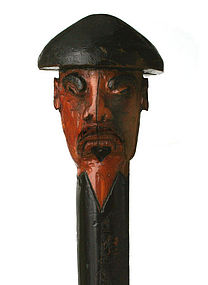 Walking Stick
1122270TB
A skillfully carved Folk Art cane with a thick tapering shaft and the head of a Chinese man wearing a coolie hat. The metal tip is marked "Union Hardware Company, Torrington, Connecticut", 37-1/2" L., the head is 2-1/2" across the top and 3-1/2" H. In very good original condition, late 19th or early 20th Century. We accept time payments and quantity discounts. ** WE GUARANTEE THE AUTHENTICITY OF OUR MERCHANDISE AS REPRESENTED. MEMBERS OF: THE ANTIQUES COUNCIL, THE CAPE COD ANTIQUE DEALERS... Click for details
$425.00
page: 3 Previous 1 2 3 4 5

6

7 8 9 10 11 12 13 Next 4